Here at Wilcox Builders INC, we believe it is better to be REALLY GREAT at a few services, rather than average at everything. By specializing in specific services, we are able to offer the highest quality work from a very knowledgeable team and deliver superior service from start to finish.
We specialize in new construction projects such as garages and small homes as well as premium deck building services. If you would like to build your Dream Home or Northwoods Getaway, a place to store your fishing boat, ATV, or snowmobiles, or a Beautiful Deck to host your next barbecue or enjoy your morning coffee or evening wine overlooking the water, call today and let us know how we can help!
We have a range of other services we do provide such as roofing, siding, and bathroom remodeling and treat them with as much priority as our specialized services. We strive to provide the highest quality with everything we do, so if you are looking for the right crew to take care of your project, we are here for you.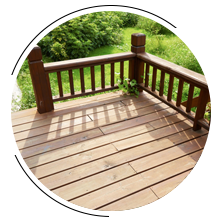 A beautiful deck can add a lot of value and interest to your home. Imagine entertaining family and friends on a sunny summer day, sipping a cup of coffee with the sunrise, or enjoying a glass of wine as you watch the sun go down over the water. We know these moments are part of a life well lived and we are proud to be a part of that. Our expert team is ready and excited to hear from you and help make that happen!
Are you tired of scraping your windows in the freezing cold? Do you need a safe place to store your fishing boat or ATV? Do you need some overflow storage or a workshop for your lifelong hobbie? You've come to the right place. Garages are one of our favorite projects to build. We like the efficient turnaround and enjoy seeing a completed structure in a relatively short time. Typical garages start in range from $30,000-$40,000, but can be as unique and luxurious in size and features as you would like. The best part, with some detailed conversation we can give an accurate estimate range over the phone! Call today to see if we are a fit for your garage project!
New construction is our forte. We specialize in smaller scale custom homes, 2,000sf or less, but can build any size with accuracy and quality. We pride ourselves on our excellent and ongoing communication with our clients as we take time to keep you informed of progress. Our Pro-Active approach allows us to make adjustments before there is a significant impact on the success of your project. Our detail oriented general contracting team handles everything from the excavating, plumbing, and electrical to the final nail and even a thorough cleaning of your finished home, ensuring you have a smooth and stress free experience!